Mobile & Apps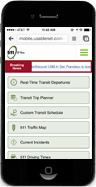 If you have a smartphone or mobile device, you can conveniently access transportation information when you're on-the-go. 511 Mobile (m.511.org) provides some of 511.org's most popular features right on your smartphone.
Now, you can download our free 511 Transit App designed for iPhone 4 (and later), and Android to plan your next trip. Our app provides information for more than 30 public transit agencies, the most complete transit agency coverage for the San Francisco Bay Area.
We also have a list of third-party apps and websites that offer helpful tools and information for traveling around the Bay Area. Try them out and let us know what you think.