Mobile & Apps - 511 SF Bay Transit App
Want to plan a trip by bus, train or ferry from your smartphone? Our 511 SF Bay Transit App designed for iPhone 4 (and later), and Android provides door-to-door transit trip planning on more than 30 transit agencies and finds scheduled departure times for transit stops throughout the region.
With the interactive map you can locate your route and view stops along the way, as well as your current position from GPS while on the move. Walking directions to your stops and fares (with transfers) are also available, and major landmark locations appear when zoomed in on the map. You can also text or email trips to your friends, or add trips to your calendar, using the "share" feature.
Use the buttons below to get the 511 Transit App for your iPhone 4 (or later versions) or Android. Try it out and let us know what you think. For helpful tips, please check the 511 Transit App FAQs.
Android Samples: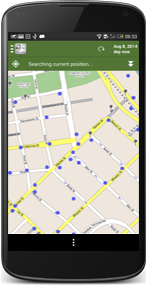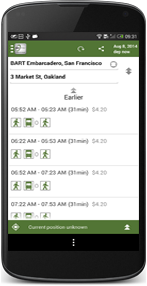 iPhone 4S Samples: